Forum: Airsoft Armory
Topic: Mosin-Nagant 91/30
started by: Ersatzjack
---
Posted by Ersatzjack on May 29 2008,23:54

I've finished the 91/30 I was working on for Gryphon.  I didn't try to fill the bottom of the magazine well with thicker magazines as all I have is bondo and Gryphon has some exotic materials he can thicken the magazines up with for a flush look with the gunstock.  Should take him an evening.  It comes with three mags and they were cut down to fit.  Capacity is very real steel at 10-11 rounds each.  PDI parts are the piston, spring, spring guide, and trigger group.  A laylax 555mm tightbore is also installed.  Fixed hop-up but that can be adjusted by removing the front handguard which doesn't take long.  You need to stick with a particular bb weight and adjust it before the fight.  Novel concept.  FPS is 400+ but how much + is anyone's guess.  I suppose Gryphon will let me know.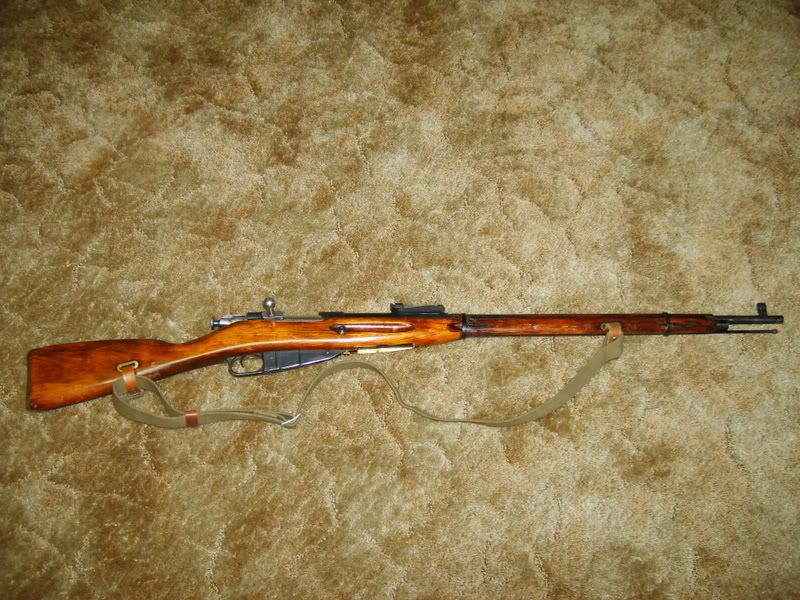 Full shot



Close up of the bolt group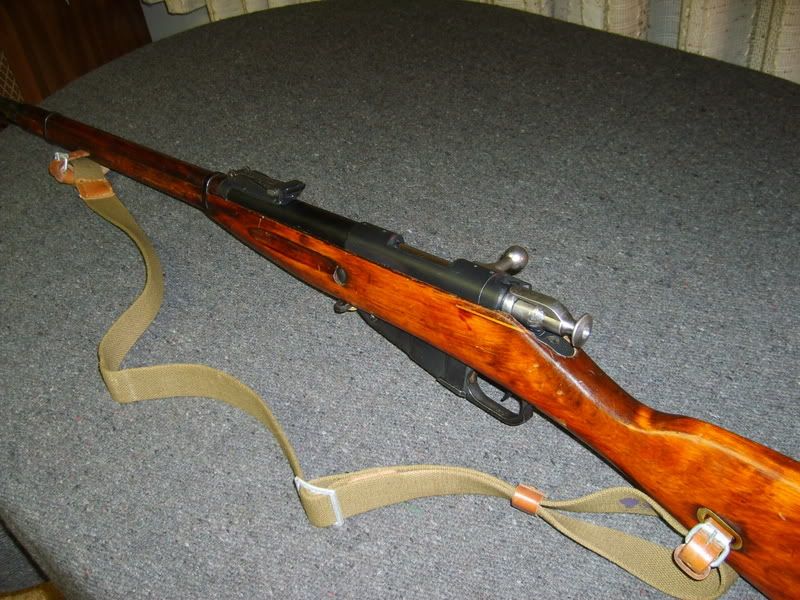 Port side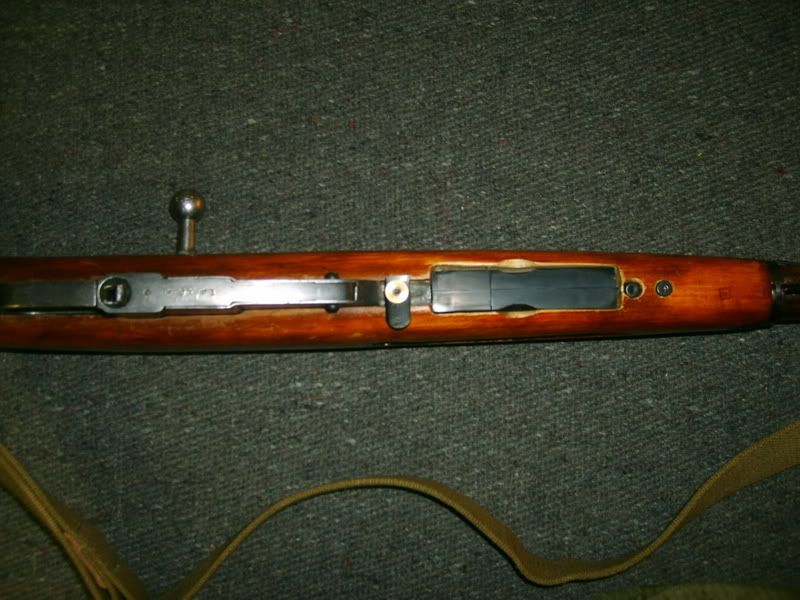 Magazine well area.  The front is like the stock VSR-10 and the back is a spring loaded latch from the RS trigger guard.  It holds the back of the magazine.  It takes longer to load this gun but should not lose any magazines.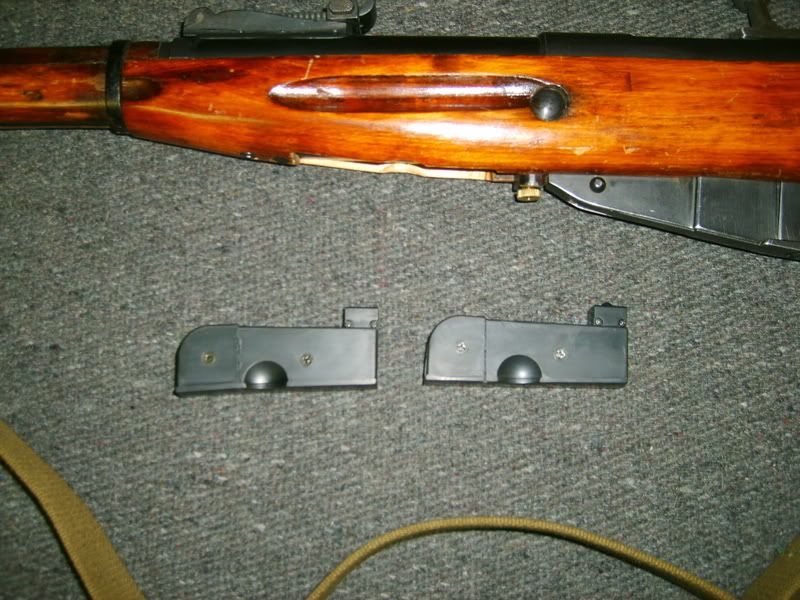 That's a good thing since they take awhile to make.

This rifle is a natural pointer and while very long is balanced nicely and kinda fun.  But it is a real tough build.  I'd think long and hard before doing another one.  
---
Posted by Udo_Schaaf on May 30 2008,07:39

Wow. She looks great! Does the ersatzjack magic ever stop?
---
Posted by Rekkon on May 30 2008,08:01

Nice!  Were the Russians thinking they might have to fix bayonets and form a phalanx to defeat cavalry charges?  
---
Posted by Udo_Schaaf on May 30 2008,08:25

Yea, they're long beasts for sure. Very similar to the German Gewehr 1898 in overall length, or any wwi era long arm. Of course, unlike the Germans, the Russians actually used their bayonets
---
Posted by gryphon on May 30 2008,10:36

Good Lord, 'Jack, what a work of art - hands down the best Mosin Nagant conversion I've ever seen. Your bolt looks AMAZING, I can hardly wait to examine it up close!
---
Posted by Ersatzjack on Jul. 01 2008,16:42

Here is the updated mag well work.  I built four magazines and built them up so that when inserted they are flush with the gun stock.  Three are standard VSR-10 mags cut down to 10-round capacity and one is a hicap VSR-10 cut down to about 20-rounds.  I should have made them all hi-caps but hindsight is cheap.  




Delivery is slated for tomorrow.  Nice shooter and super nice smooth cocking action - if I say so myself  
.
---
Posted by Ersatzjack on Nov. 28 2012,00:54

This is more of a FYI for the German team.  As you know the arms race never stops.  In exchange for some wheel work on the halftrack, I did some upgrading to two Mosin-Nagant rifles that Gryphon uses on his team.  One is his finished VSR-10 conversion that uses a basic VSR-10 with clever putty and wood add-ons to make it look very close to the real thing but keeps the utility of VSR reliability and importantly, the 30-round magazine.  It is shooting a very consistent 440-450 FPS with .20's.  This is inside chrono results and outside light could change things.  Be on the lookout for the sniper with this rifle in his hands.  The second rifle was just VSR-10 guts and Gryphon has yet to build it's body but plans to do much the same using a carbine stock.  So... it's weaker.  It fires consistently 410+ FPS.  This makes three 400+ Mosin's that the Russian team has if Gryphon shows up.  I know they have other rifles too but I just am not sure what their FPS rates are.  I am posting this info because forewarned is forearmed and in the future it looks like the rifle advantage might be narrowing for the Germans. Sorry, but I need the wheel work done and anyway - parity is good for everyone.  Now all we need is an answer for the PPsh-41?  
---
Posted by andre on Nov. 28 2012,08:30

(Ersatzjack @ Nov. 28 2012,00:54)
QUOTE
 Now all we need is an answer for the PPsh-41?  

Your own PPsh-41.
---