Forum: Uniforms/Field Gear
Topic: Helmets!
started by: Garrick_Udet
---
Posted by Garrick_Udet on Aug. 22 2008,11:46

All,
For those of you looking for a Restored original helmet, I just picked up an M-42 from Germanhelmetsinc.com

Service was extremely fast, I placed the order this morning and got confirmation from the guy that it's in the mail today.

Total cost $220

Pics to be posted upon receipt.
---
Posted by Garrick_Udet on Sep. 01 2008,18:00

I got my helmet this weekend. These pics don't do it justice.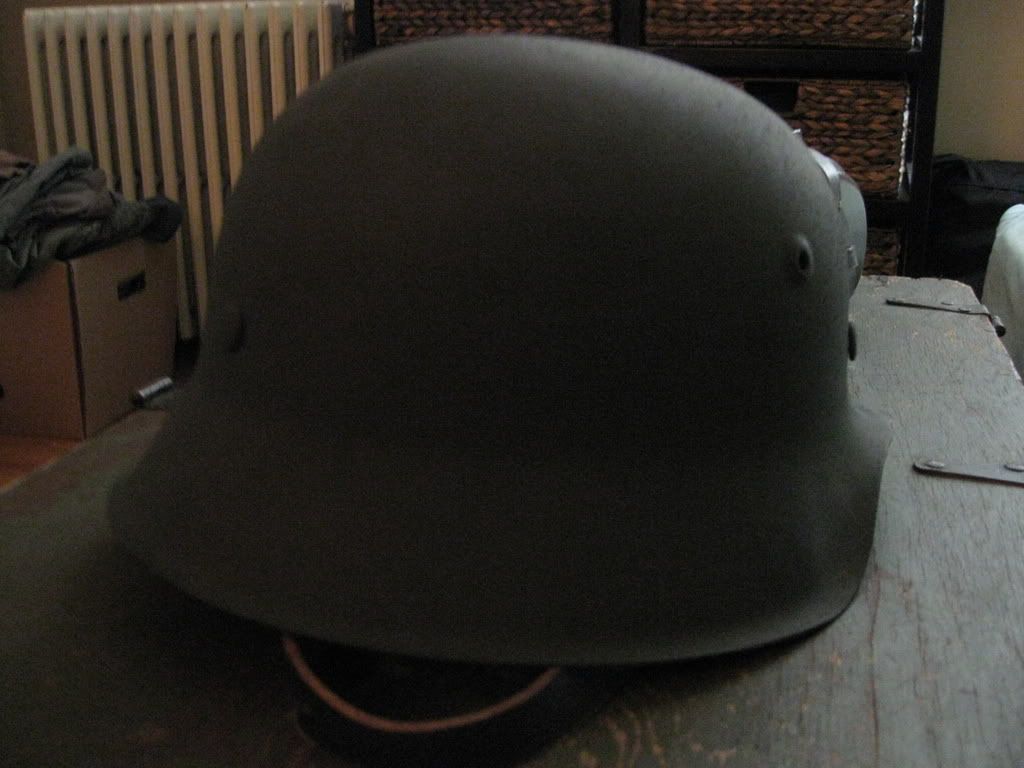 ---
Posted by Ersatzjack on Sep. 01 2008,19:00

Looks okay.  It will look better after your get decals on both sides of it, and then camouflage it and get some chickenwire on it.  Oh... and I want a Kruez on the left side too.


But seriously, I like it as is.  The really important thing is how does it fit?  I hope that it fits nice.
---
Posted by ersatzjack2 on Sep. 01 2008,20:18

You're right. The pics are horrible. They really don't show any detail of the helmet but at $220 my guess is that it's a good one. It's a good thing you specialize in airsmithing and pak gunning and not in photography.
---
Posted by Garrick_Udet on Sep. 02 2008,10:01


Yeah, well the room I took the pics doesn't have much natural lighting and the ones I took with the flash didn't look too hot.

As far as decking it out, I personally like the rough textured field gray.  I'll probably rub some mud onto it, but that's about it.

It fits great!  I have to say I was skeptical about getting a helmet since I like my M43 so much, but I'll be wearing a steel pot now during our skirmishes.
---
Posted by Shady Cadence on Sep. 03 2008,10:19

I ordered mine today.
I must say I'm impressed with the service so far, he responded to my initial e-mail in about 20 minutes. I should have it by friday.
---
Posted by Udo_Schaaf on Sep. 03 2008,12:39

Ken is a super nice dude with excellent service and a very high quality product. The guys here have heard me drone on and on about my feelings for original shells versus the Chinese reproductions. There is no comparison. Besides, after you feel the weight difference between an original and repop, your head and neck will thank you
---
Posted by Shady Cadence on Sep. 05 2008,11:44

Okay, first the good news;
The mail arrived today - WITH my helmet!  TWO DAYS!  Stellar service.  The helmet looks remarkable.  Truly quality work.

Now the bad news;
Due to the odd shape of my skull, my hat size and my helmet size are not the same!  A 7" hat fits me perfectly, but a 7" helmet binds on the back of my skull.  I could probably tweak it a bit and make it work, but I'd rather not.  I'm sure Ken will work with me on a return/exchange.
---
Posted by Rekkon on Sep. 05 2008,12:25

Looks like it looks good Garrick. I bought my cheap repro helmet before I knew about the MOA but got off easy when Otto hooked me on the 'covered with burlap' look. Way easier than painting.
---
Posted by Garrick_Udet on Sep. 05 2008,15:38

Yeah the texture on it is great. Much better than the cheapo repop that Udo loaned me last October (plus that one was way too big).
---
Posted by wellnitz on Feb. 09 2009,14:18

Well, if everything works out, everyone cross your fingers, I should have my hands on one "M-42 with wartime texture" by next week. Ken is one awesome dude, to say the least!
---
Posted by Ersatzjack on Feb. 09 2009,17:05

Wow! That makes you, me, Garrick, Udo and Dietrich proud owners.
Nice get.
---
Posted by wellnitz on Feb. 09 2009,17:46

I have sacrificed a complete original to make the deal, so fingers crossed.
---
Posted by Udo_Schaaf on Feb. 09 2009,19:22

Nice! Ken is a really swell guy. It's a pleasure doing business with him.
---
Posted by wellnitz on Feb. 14 2009,13:58

Well, after sending Ken an original M-40 on Monday to seal the deal, my helmet as arrived! I know some of us have one of these beauties, but I had to post a few pic's.
"Fits like a glove."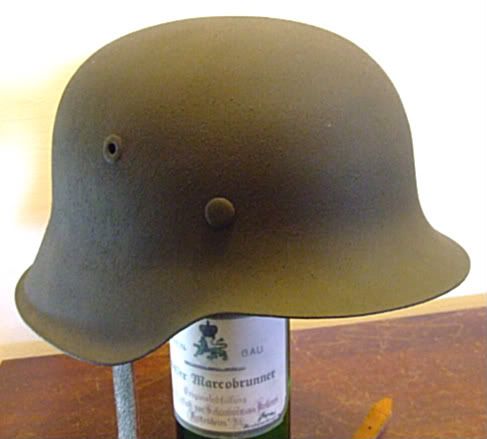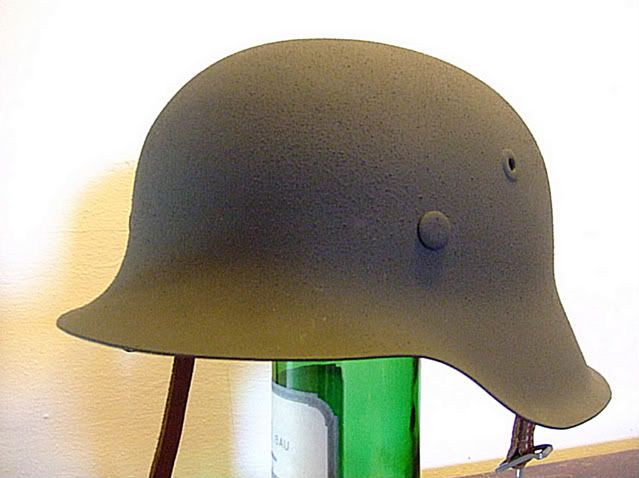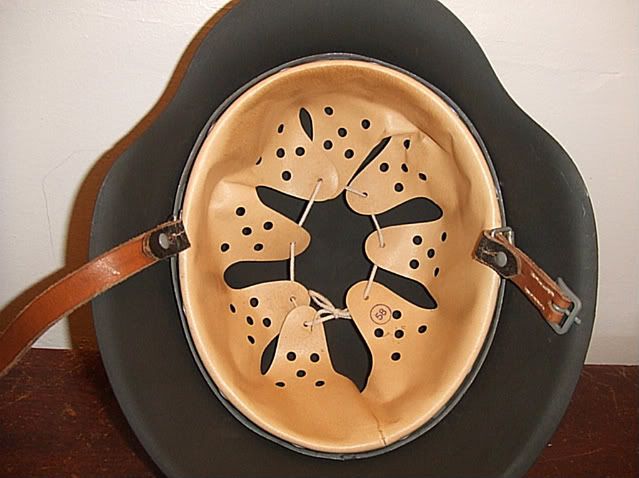 ---
Posted by Garrick_Udet on Feb. 15 2009,21:10

Looks great! Now you just have to rub it around in some mud.
---
Posted by wellnitz on Feb. 16 2009,07:43


(Garrick_Udet @ Feb. 15 2009,21:10)

QUOTE

Looks great!  Now you just have to rub it around in some mud.


Yeah, it's way too clean!


After looking over it for any signs of the factory markings I finally found the batch/maker/size numbers on the rear inside rim...
 Batch Number /  Maker/Shell size
   Partial # (1?) (7?) 384                    NS 66  


Marking                          Firm                                        Location

   NS          Vereinigte Deutsche Nikelwerke            Schwerte

(courtesy of, "Wehrmacht Helmets of WWII", Brian C Bell, page 11)
---
Posted by Rekkon on Feb. 16 2009,12:16

Mud? How crude. I will of course have to present Wellnitz with his official Pioneer Helmet Burlap.
---
Posted by Ersatzjack on Feb. 16 2009,16:00

(Rekkon @ Feb. 16 2009,12:16)
QUOTE
I will of course have to present Wellnitz with his official Pioneer Helmet Burlap.


I am not sure East Gruppe is using burlap.
---
Posted by Oberst Von Luger AKA SirVeilance on Jan. 19 2010,13:45

I have three FJ helmets, one early war double decal, one without decals that is painted tan for the Mediterranean and one single decal in Normandy camo. They are all repros, as originals go for many thousands of dollars!!

To finish off my Heer 3 PzGd impression I have needed a proper helmet. At the first Neillsville event I attended with you guys, the only German ground forces helmet that I had that fit me was a heavy duty plastic one that I bought some years ago. With a  Splinter A cover on it, no one knew


Recently I bought a repro M42 that fits me quite well, but the color is all wrong I need to paint it or have it painted to be satisfied with it or I could just put the Splinter A cover on it. Has anyone bought the proper Gray/Green paint for a helmet anywhere! I know aluminum oxide was added to the original paint to get the rough texture. I wonder if anyone sells it in a spray can


Also, I just realized that the "Spanish" helmet I paid $20 for, back in 1980, at a flea market in New Orleans, is really an original German M40! Yippee!! It was repainted though, in the prewar light green...I think it's called apple green, so I'll want to repaint it too. Although I may just whitewash it to have for winter battles. The only problem is that the original liner, which is in good shape, is a tad small for me. It is a 58 size liner. I plan on buying a 59 liner, for this shell size, which is a 66, but don't have the faintest idea how to remove the liner. I have tried to figure it out, but don't want to screw up the original 58 liner doing it. I can swap liners in an FJ helmet in no time, but am at a loss as to how to do it in an M40!

Anyone know how to remove a liner in one of these or know of a webpage that explains it?

Veilen Dank for any help!
---
Posted by wellnitz on Jan. 19 2010,16:13

I have removed a few liners in the past.
( assuming it is the three rivet liner)
First you will need to flex back the liner band in order to access the three rivet pins, removing them one at a time. Usually in most cases each rivet has a washer as well, unless the liner was removed at a later time, i.e. after the war. Since it is a post war reissue, the washers probably will not be present.
Once you have straightened out both of the rivet prongs you should be able to slip the washer off. Then it is just a matter of slipping the rivets out the front of each hole and the liner should slip right out.
---
Posted by Ersatzjack on Jan. 19 2010,16:23

Sir V, Modelmaster makes Imperial Japanese Army Green which when you tint a little with black makes a convincing German helmet color.  Do you have an airbrush?

Or...

< http://www.1944militaria.com/equipment_spray_paint.htm >

German Dark Fieldgray should work.
---
Posted by Udo_Schaaf on Jan. 19 2010,17:41

I believe Ken will also paint helmets. Then you could get the perfect textured paint job.

< http://germanhelmetsinc.com/restored_ww2_helmets.htm >
---
Posted by Oberst Von Luger AKA SirVeilance on Jan. 20 2010,08:17

Thanks for all the info guys!

Paul, I'll take a look when I get home tonight and see if I can figure out how it comes out. Thanks for the pointers!

Otto, Yes I have an airbrush, so I could mix my own and spray it. Also thanks for the link to the paint! I haven't looked at 1944 Militaria's site in a while and after I followed your link I also found this!

< http://www.1944militaria.com/german_helmet_paint_and_decals.htm >

Udo, I have been to Ken's site on many occasions but never noticed the section at the bottom you pointed out that says he will refurbish a helmet! I was going to get a new liner, split pins and repro strap, for my original M40 and the best deal I have seen on that was a $95 package deal, but he offers doing the same plus a paint job for $170 with shipping! If I did that he would swap the liner for me and I'd get the nice textured paint! Hmmm! I noticed his only caveat is he may not paint a repro helmet, if I'm understanding what he says above about restoring helmets, so I'd have to repaint my repro M42 myself...maybe with the paint 1944 Militaria sells! I don't know if it would be worth it to spend $75 to have a repro helmet painted anyway.

Veilen Dank Kamraden!
---
Posted by wellnitz on Jan. 20 2010,13:04

Tamiya makes WWII German RAL shades and they work great in an airbrush. Also, Testors makes a Panzer gray and when dry looks  just like the Dark Gray RAL 7027. Both are cheaper than 1944militaria paint prices and can be applied to metal surfaces. Very fine white decorative sand would work great for a textured finish ( the kind used in gimmicky desktop Zen rock gardens).

I forgot to mention...If you decide to take out the liner in your M40, take care in bending each rivet prong as they can break if bent too much.

Otherwise, as far as the M40, if you don't have the new liner/rivets yet, I am with Udo in saying get a hold of Ken. His liners, rivets, and paint job is top notch, spot on, high quality stuff. ( A year later and I am still excited about the helmet I received from him)
---
Posted by CharleyNovember on Jan. 20 2010,16:23

I have helmet envy now.
---
Posted by Udo_Schaaf on Jan. 20 2010,21:06

All this helmet talk got me hot and bothered. Here are a couple of my "boys." Both are original shells restored by Ken:


---
Posted by Ersatzjack on Jan. 21 2010,00:54

Nice helmets. I can't wait to see you in the WWII one. Is that going to be a play helmet, or just tucked away somewhere safe?
---
Posted by wellnitz on Jan. 21 2010,07:09

Cool pictures...
That is an awesome M16 Udo. I remember you had mentioned it a couple times in the past. The liner looks really nice, heavy duty leather and well made. Great for early war, volksturm, etc.
Your M42 has a nice patina of crusty dirt, beautiful. Those liners really do change color when exposed to sweat. Mine is not as dark yet, but it's getting there.
The brown book with "Deutschland something" on the front cover looks interesting. Are those original military books from Germany? They look old.
---
Posted by Oberst Von Luger AKA SirVeilance on Jan. 21 2010,08:19

Yes...nice looking helmets Udo!

I have a collection of military helmets, WW1 to modern day. I have almost twenty now and my first was a WW1 German Helmet. I bought it in 1975 and paid $1 for it. It had no liner and some battle damage. I bought it at a flea market in Tunisia. I guess a few of those made it to North Africa in WW2. I was very surprised to see it there
---
Posted by Udo_Schaaf on Jan. 21 2010,11:16

The books I used to prop up the helmets are "Adoph Hitler" and "Deutschland Erwacht" (Germany Resurgement/Awakened). Both are pre-war cigarette/tobacco picture books, one being dated 1933 and the other 1935. They're essentially big NSDAP propoganda love fests. Great pictures.

The M16 is just a prop piece for now. I've thought about using it for a Finnish impression sometime in the future.
---
Posted by wellnitz on Jan. 22 2010,06:45


(Udo_Schaaf @ Jan. 21 2010,11:16)

QUOTE

 They're essentially big NSDAP propaganda love fests.  Great pictures.  


That is funny...and true. I had a feeling they were the old propaganda picture books. Ran into one with my Dad two years ago, the thing weighed a ton and full of awesome color pictures of everything German, castles, locals in regional garb, Golden Pheasants all dolled up, etc... It was 270.00 dollars! Needless to say I passed on it. I remember back in the early 90's and one could find these pre-war color books everywhere and for dirt cheap, now it is getting harder to find them.

Back onto helmets...
There is a book by Brian C. Bell published by Osprey called "Wehrmacht Combat Helmets 1933-45". It is a small, simple book, but very informative. It is easily found at most book stores or online and is a great reference for all of those who own a Stahlhelm.
< http://search.barnesandnoble.com/Wehrmac....1767253 >


Another great reference book is "Stahlhelm", Evolution of the German Helmet, by Floyd Tubbs, 1971.
< http://www.amazon.com/Stahlhe....3386779 >

Maybe this can help Oberst, a cut-away view of the interior of the M31 liner...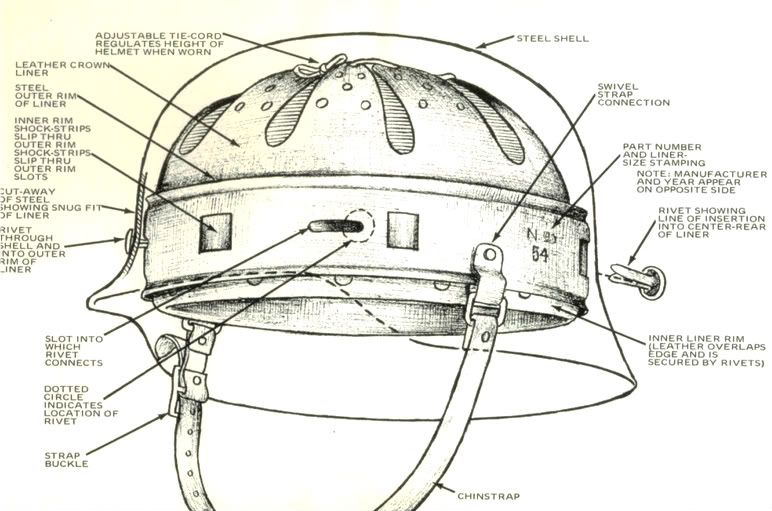 ---
Posted by ersatzjack2 on Jan. 22 2010,08:57

Another wealth of information post.  Thanks Paul.  I think we'll need to come up with some sort of ribbon for you, Neo, and Udo.  Maybe call it the history buff ribbon.
  One for EJ too I guess.  His can have an oak leaf cluster for vehicle knowledge.


Side note. Reenactor fest is in Illinois on 02/05 thru 02/07. I plan on going because Grigsby is setting up a booth and I want some stuff. New service cap, drings, etc. Anybody need anything? Pm me. Maybe I can pick it up and you can pay me in Pickerel or send me some funds. Mike, wanna go with?
---
Posted by Oberst Von Luger AKA SirVeilance on Jan. 25 2010,08:40

Well....I sent the original M40 to Ken on Saturday. Along with a check for $170. I look forward to seeing the results!

I ordered a can of the helmet paint from 1944 Militaria for the cheeeepo reeeepro I have. Also on Saturday I was at Lowes and noticed a line of "textured" spray paints that Rustoleum sells. I bought a can of the black to undercoat the repro that I am going to spray with the 1944 Militaria paint. The textured paint gives you a nice even textured surface, maybe too even
---
Posted by Oberst Von Luger AKA SirVeilance on Jan. 29 2010,16:30

Holy Stahlhelm Batman that Ken is quick!!

Last Saturday, I dropped my helmet off at the Post Office, to send to Ken at Germanhelmetsinc.com for a full resto and it came back today!! Wow is he quick!!

He must have sent it out before he even got it from me!  
---
Posted by ersatzjack2 on Jan. 30 2010,08:14

Well.... how does it look?
---
Posted by Udo_Schaaf on Jan. 30 2010,10:11

He is very very fast. I've always wondered how he does it myself.
---
Posted by CharleyNovember on Jan. 30 2010,16:57

Are you sure it is your exact helmet? Perhaps he has some predone and just sends them out in an exchange manner?
---
Posted by Oberst Von Luger AKA SirVeilance on Jan. 30 2010,18:51

Actually...I haven't seen it yet...the Post Office left a note in my mailbox Friday, saying that they tried to deliver it, I won't get to pick it up till Monday afternoon.

As far as whether it is mine or not, we will see, I remember what the codes were in mine, an ET66, but can't remember what the serial number was.
---
Posted by Oberst Von Luger AKA SirVeilance on Feb. 01 2010,18:52

Well....I am very pleased with the helmet, I picked it up at the Post Office today and yes it is my helmet. I recognized the codes and the serial number inside the rim. The paint smells so fresh, that it has to have been just painted.

As I requested, he returned the old original liner that was in it and it was interesting to see a manufactures stamp on the outside of the helmet liner band. It was stamped 1937.

Also I compared the texture of the aluminum oxide on the helmet Ken did for me with the texture of the "textured" spray paint I bought at Lowes and it is very similar. As soon as I get the can of spray paint I ordered from 1944 Militaria I'll shoot it on and post comparison photos for everyone to see.
---
Posted by Oberst Von Luger AKA SirVeilance on Feb. 15 2010,10:44

I finally got a chance to try the helmet paint that 1944 Militaria sells. I sprayed it on the cheapo repro helmet I have. The paint is close to what Ken at German Helmets Inc. uses, but is a bit greener and has a little shine to it, but not much.

When I ordered the can of paint from 1944 Miitaria, I inquired whether there was any texture "built in" to the paint. They said no, but that they thought they had a little aluminum oxide left over that they could send me to sprinkle on to the wet paint. They did not send any aluminum oxide with the paint, either because they did not have any or they forgot about it during the two week wait from the time I ordered the paint till the time they shipped  
 

I looked into ordering some aluminum oxide but found that it is sold in 50 pound bags for the sand blasting industry. So instead of that, I tried a can of spray paint that Rustoleum sells that has texture "built in" to the paint. I tried one can that was black, but it had too fine of a texture and bought a second can that has a coarser texture, that was a brown color. The second can was actually a two tone brown, the base color is a dark brown and the texture itself was a lighter shade of brown. When sprayed onto the helmet it looked very mush like rust. I may find a need for this paint in the future if I want to simulate old rusty metal, as that is just what it looked like


After I sprayed the textured paint on the cheapo repro, I sprayed the 1944 paint on over it and the finished product looks very close as to what Ken at German Helmets Inc sends you. I will shoot a photo comparison if anyone wants to see it.
---
Posted by Ersatzjack on Feb. 15 2010,11:15


(Oberst Von Luger AKA SirVeilance @ Feb. 15 2010,10:44)

QUOTE

I will shoot a photo comparison if anyone wants to see it.


By all means, please do.
---
Posted by CharleyNovember on Feb. 15 2010,16:16

I have a helmet coming how can I tell if it is a cheap repor or a good repro if there is such a thing...It was sort of a package deal so i went for it. Hope it turns out in my favor.
---
Posted by Oberst Von Luger AKA SirVeilance on Feb. 15 2010,17:30

I got my Cheapo Repro as part of a package deal too. It's hard to say what is a good one are a bad one until you have it right next to an original. The biggest thing is the rolled edge, on the one I got, is very uneven and wavy. It is very noticeable around the back edge. You can really see it if you set it on a flat table. But with a camo cover on it you'd never know.

The second thing is the gauge of the metal is much thinner. You can tell that by how heavy it is not. Which really isn't a bad thing for older necks like mine


Also with some of the repros, you may have a hard time, if you need to swap the liner for a different sized one as some of the repros, especially the Chinese helmets don't follow the size patterns of the originals. They are not marked in the size patterns of the original either.

There are manufacturers in Europe who make spot on replicas. They run about $50-$80 more than the Chinese models, but are accurate in size,  have the ID codes stamped into them and have the rubber stamp in the dome as well. I haven't seen one of their M35,40 or 42's up close, but do have one of the M38 FJ helmets they make and it is very nice.
---
Posted by CharleyNovember on Feb. 15 2010,19:15

Well I'll just have to see when I come to Breacort Manor with mine. I'm sure Bob will be happy to point out how wrong it is for me. lol
---
Posted by Oberst Von Luger AKA SirVeilance on Feb. 18 2010,23:40

Here are a few photos of the helmets.

Below Left: Original M40 Helmet, painted by Ken at German Helmets Inc.
Below Right Cheapo Repro, sprayed with paint from 1944 Militaria.



Close up of original M40 showing texture made by sprinkling Aluminum Oxide on the wet paint.



Close up of Cheapo Repro undercoated with Rustoleum Textured paint.



The paint from 1944 Militaria is a little darker and a little greener than what Ken shoots on his helmets. This is because the 1944 paint has a little shine to it. I will get some clear flat paint and spray it on the Cheapo Repro. That should gray it and lighten it a bit.

Below is the M16 helmet I bought in 1975 at a Flea Market in Tunisia. It still has some tan/brown paint on it.

---
Posted by Ersatzjack on Feb. 19 2010,01:20

Nice work. How do you know Ken has the correct color and Militaria1944 does not? Or should I say correcter or correctest.


The oxide looks better sprinkled on for sure. You get too uniform a covering out of a can but as you say, it is just for the repo and no one is going to give it a second thought in the field anyway.

Looks like Pete is getting ready for a Heer makeover. - Yeah.
---
Posted by wellnitz on Feb. 19 2010,07:06

Kens paint seems to be more of a Panzer Gray, while 1944militaria seems to be the slate gray finish. Both look spot on as far as paint goes. The Rustoleum appears to have a much finer and more abundant texture to it. My M42 from Ken was also lightly sprinkled with the oxide giving it a patchy appearance with small "bald" spots.

A chance to go to Tunisia would be awesome by itself, but then to find a rare piece like that M16 with trace amounts of tropical tan paint, doesn't get any better than that. Liner or no liner that bad boy is a one of a kind museum piece with no doubt to it's authenticity. One can only imagine the story it could tell...
Looks like there are some burned areas on the crown of the helmet and around the right lug.
---
Posted by Oberst Von Luger AKA SirVeilance on Feb. 19 2010,09:40

Ja wohl Otto! I will be Heer next weekend and I don't mean I will be here


Yes the 1944 Militaria paint is different but not wrong. Even though I have seen many photos showing helmets with some shine to them I would rather flatten the color a bit. Just my own preference. Also the shade of the color itself seems OK too, as many photos of troops in the same unit will show many shades of gray, but in most B&W photos what hue they are is impossible to tell. I have seen many color photos showing original helmets, online and in books and the 1944 color is very similar to many I have seen. Its interesting to note that many of the original helmets that have survived with their original paint schemes are very shiny. I think they may have originally been less shiny but years of handling has added some shine to them. I have noticed this even on rusted helmets that have been handled a lot.

As far as the texture goes, yes the Rustoleum paint is a little finer and is a little too even as well, but will do fine on a repro helmet until I can find a some Aluminum Oxide in less than a 50 lb. bag


Having done this makes me want to get a few more helmets, both too collect and for play. I would like one white washed, for winter play, but have not found an easily removable white paint. I tried crushed chalk once and it looked great, but cam off way too easy. I'm still looking for a white paint that is durable enough, yet will come off easy, It's either that or get a helmet and permantely white wash it. I'd like to have one in "Normandy Camo" as well. Also it was common among some Panzer troops to apply a thin layer of Zimmerit paste to the helmet as well. These usually had camo applied, with a brush, a sprayer or both. I plan to try to replicate the Zimmerit on the Cheapo Repro in the above photos to cover up it's imperfections....Let's see that is project number 1078 and I am only on project number 311
---
Posted by Shuzensky on Feb. 19 2010,09:56

Sir V- When your satisfied with the paint of the Repro, I'd also suggest hitting it with a thin layer of "Testors Dullcoat" to flatten and dull down some of that shimmer, like you said.  
As long as it goes on real thin; more matte, less shine and reflection, I say.
Or, give it a simple dirt bath if you don't want to risk any possible overcoating.

The Tunisia flea market find is quite nice, indeed.
---
Posted by Oberst Von Luger AKA SirVeilance on Feb. 19 2010,11:02

Yes! I planned on hitting the hobby shop tomorrow for some Testors Dullcoat, it has always worked great!

Some day I'll get a 35mm slide scanner and post the photos I took on that trip to Tunisia. Some of the slides have gone missing, including one of me sticking out of the turret hatch of knocked out Panzer III that we spotted, abandoned in an olive grove. It still had much of it's original paint on it. It now resides in a museum in Germany. I still have a couple slides of it with my brother standing next to it. I also have a shot of one of the numerous donkey carts that were always rumbling down the roads wisked along by small children, who prodded the donkey's with a stick. The carts had fifty gallon drums on them to fetch water from the local wells and most interestingly, every one I saw rolled on the metal road wheels from German halftracks, minus the rubber tire, which had long since worn away. I'll never forget the sound they made rolling down the streets! I didn't get a shot of it, but one day we passed a gas station that had a small junk yard attached. Sitting amongst the wrecked Citroen 2cv's was a VW Shwimwagen! My brother, who lived in Tunisia for two years, told me of the main junk yard in Tunis, that he would visit to get parts for his Land Rover, it was littered, with hundreds of WW2 vehicles, American, British and German.

Gosh, how I would like to go back to Tunisia in 1975 with a pocket full of Dinars
---
Posted by wellnitz on Feb. 19 2010,14:48

If I remember correctly there are some photo's floating around of the 3rd Panzergrenadier along with captured Bren carriers. Their helmets have a tan-yellow over spray with what appears to be either green streaks or the gray undercoat. That would be a neat look for some of us if it was common enough within the 3rd at the time.
---
Posted by Ersatzjack on Feb. 19 2010,19:05

Are you talking about this photo.

One of my favorite: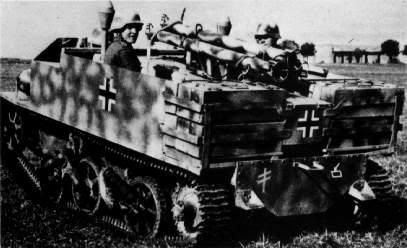 ---
Posted by wellnitz on Feb. 19 2010,20:18

Yes, that's the one, looks like M42's with the tan-yellow over spray, very cool picture indeed.
---
Posted by Oberst Von Luger AKA SirVeilance on Feb. 20 2010,18:06

I got bored this afternoon and spent about an hour doing a "Normandy" camo on the Cheapo Repro.  I used that Krylon "Saddle Tan" that matches German Ordinance Yellow and some red brown that I had. I then aged it with some model paints and pastels, along with a Scotchbrite pad and some sand paper. Then shot Testors Dullcoat on top.


---
Posted by wellnitz on Feb. 20 2010,18:47

Nice job on the pattern and weathering, it looks great.
---
Posted by Aldrich on May 20 2012,15:13

Just showing off my helmet.  It is an IMA repro m35.  I painted the decals on myself and then smothered it in mud.  I also added a foliage wire made out of copper not unlike the kind used for communications wire.  


---
Posted by ersatzjack2 on May 20 2012,22:48

Aldrich, that's a sharp helmet. Be careful when using foliage not to over-do it. The idea is to just break up the circular man-made helmet shape. If the foliage extends too far it actually works against you and becomes counter-camouflage. The copper wire will look better when it becomes tarnished so don't rush out and buy any Brasso.
---
Posted by Aldrich on May 21 2012,00:12

Thanks!  
 I usually don't try to put too much foliage on as I like the look of the helmet.  The foliage was originally up tight to the helmet but it was pretty breezy out, I wouldn't recommend using leaves for that reason: they move too much.  The leaves are actually based off a photo I have of a group of infantry dug into a ditch.  Each of them has some sort of wire or bread bag strap on their helmet.  Interestingly enough, one looks as though he wired a large clump of sod onto his helmet to match the field in front of him.  I also like how you can use the tan of the mud along with the field grey to create your own camo pattern.  I figure many soldiers did the same in field.  I do not think mud was ever something in short supply on the eastern front.  
---
Posted by wellnitz on May 22 2012,11:59

Very nice detail addition to your helmet Aldrich. If possible post some pics of the hand-painted decals, I'd like to see how they turned out.

I hand painted the national shield onto my M-18 Transitional helmet, like some of the original M-18's, and scratched off the Adler. Then gave the shield a worn look by scratching little bits of it off.
I got the idea from an original DAK helmet a friend of mine has. It was picked up in an Allied hospital from the bed of a German POW. The helmet is a M-35 with a tan brown hand painted camo pattern with the Adler painted over but the national shield left intact. We figured the German soldier was obviously not a Nazi Party supporter, thus the reason for painting over the Adler, but a nationalist.
---
Posted by Aldrich on May 22 2012,17:35

Here are some more photos.  I decided to have some fun and make some wire configurations for helmets.  They are based off of real captured helmets, almost all had some form of camo paint and practically all were from Italy.  However,  looking through some books of mine too I was surprised how common attachments like these were if you look really close.  All of these are made by hand with string or wire.  Many of the examples I found looked as though they had been made by hand.  The chickenwire netting is usually nowhere near as perfect looking as the ones sold online and are usually much bigger in size.  

Pics: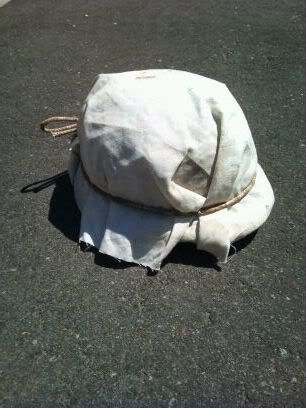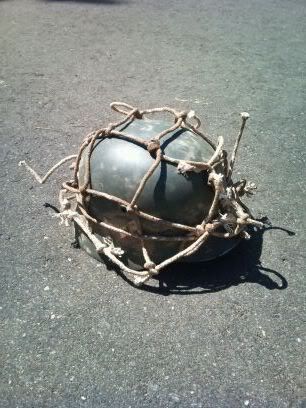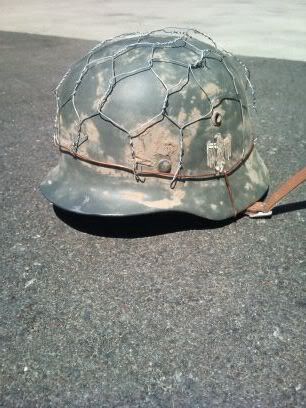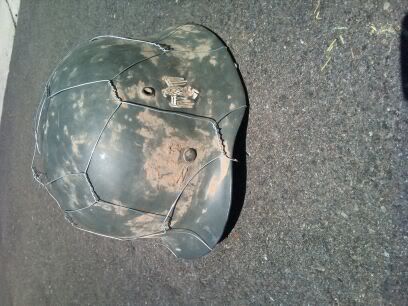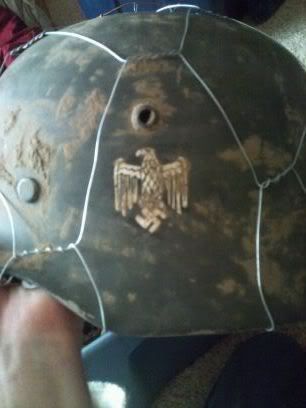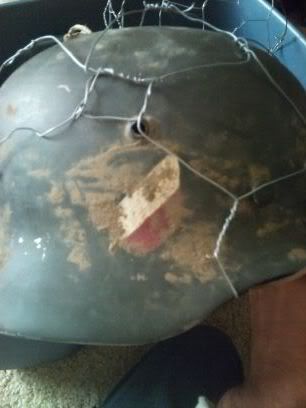 ---
Posted by Aldrich on May 22 2012,17:52

Ooops, forgot one more.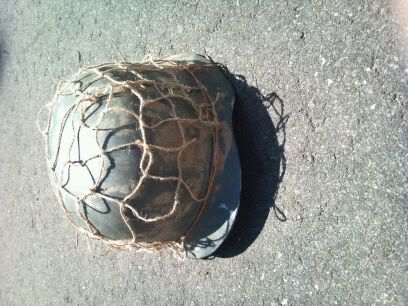 I find it interesting that that DAK soldier scratched off his emblem.  Most painted helmets avoid them at all cost. He really must not have liked it. If camouflaging was his main concern I'm sure he would have removed the big red and white shield.
---
Posted by wellnitz on May 23 2012,10:44


(Aldrich @ May 22 2012,17:52)

QUOTE

I find it interesting that that DAK soldier scratched off his emblem.  Most painted helmets avoid them at all cost.  He really must not have liked it.  If camouflaging was his main concern I'm sure he would have removed the big red and white shield.


The DAK helmet is one of the most interesting I have ever seen. The US vet who brought it back was in the cot next to the German soldier. It was a hotel or something similar converted to a hospital, where both Allied and Axis soldiers were being treated together.

Unfortunately the vet who brought it back did not get a chance to talk to the German Soldier, he died just a few days after arriving at the field hospital. The Nurse on duty had to box up the Germans personal items, she was going to toss the helmet, but asked the US vet if he wanted it, and that is how the vet came into possession of the helmet. For decades to come the vet said he thought about that German soldier every time he looked at the helmet; who he was, what kind of person he must have been, etc. About twelve years ago, just before the vet passed away, he sold it to my buddy, stating that he wanted the helmet to go to someone who would pass the story along to others.

But I digress...Your helmet looks very nice Aldrich. Your idea of attaching simple foliage wire is a great idea, because it was a very common practice like you stated. It also gives your helmet a uniqueness and person touch that was seen on many German helmets of that period, i.e. my story of the DAK soldier.
The small details give character, realism, and personality to our impressions.
I like to compare this hobby to an actor or actress preparing for a role in a play or movie. The closer one can get to their character the better one will be at portraying said character.
---
Posted by wellnitz on Jul. 20 2012,10:25

Black rubber bands for affixing foliage to the German helmet.
After months of brainstorming with other members as to where we could find decent material for helmet bands, I remembered an old pair of worn out rubber boots in my basement. The bands are a tiny bit thicker than the inner tube rubber commonly seen on helmets, but I think they'll work.
If anyone's interested, I have four more bands which will be available to members of the 3rd at the next events.

The four extra bands. They need to be stretched out before they'll slip over the helmet, which I'll do before bringing them.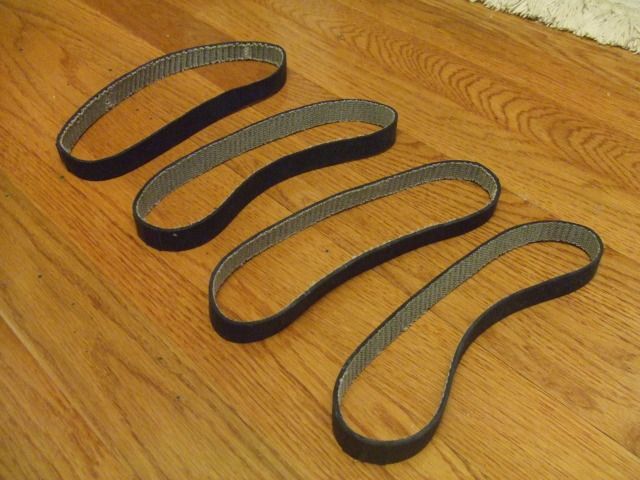 Examples: The bands fit over the M-42 and M-18 shells, so they should fit on any model size.
M-42:



M-18: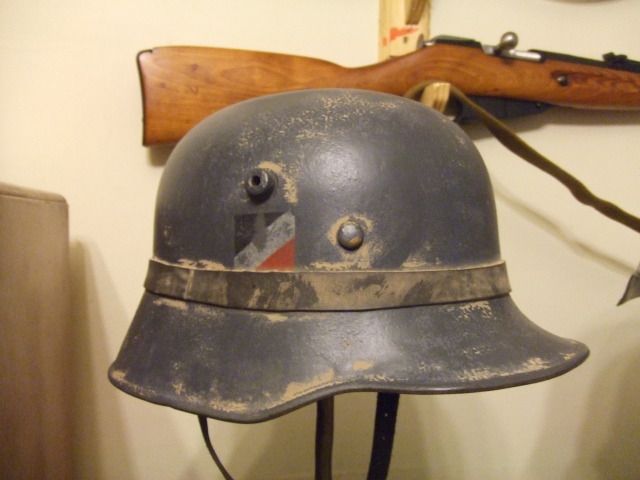 Up close pic. Since they are on the thicker side they should hold up just fine.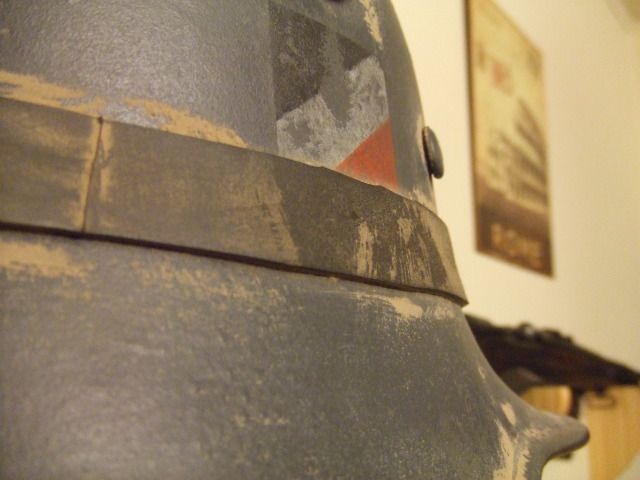 ---
Posted by Aldrich on Jul. 20 2012,12:34

I would be very interested in one of these,  I have been looking for something like this for the past few weeks.  I think they look perfect!  Good thinking on using the boots
---
Posted by Ersatzjack on Jul. 20 2012,15:12

Well, we think alike.  I have made some too from a cut up inner tube and can make as many as needed.  Mine are not as thick as yours though Paul.  I also would have wanted a slightly larger inner tube and have my requests in for one at the auto repair place when they get another flat.  So I think we have this licked for awhile.  I really like the rubber band on the helmet.
---
Posted by wellnitz on Mar. 06 2013,11:13

A friend of mine brought over a 2013 Coleman's catalog yesterday. I noticed they are carrying the German helmets recently found in Finland ( limited quantities).

For those Germans out there looking for an affordable and historically accurate helmet, as opposed to the reproductions, they are only $199.00. Pick up a liner and split pin set, repaint, and you'll have a helmet to be proud of. These are the M40 models and if the add is correct they are war time production shells. If I didn't just pick up a M40, I'd be ordering one myself.
For those who are thinking about joining the blank-fire side, where repro shells are a no-no, this is a golden opportunity to own an original.

< http://store.colemans.com/cart....Helmets >
---
Posted by Ersatzjack on Mar. 23 2014,04:19

Finally I got around to changing my helmet paint for the upcoming Weldonkreig.  It is what I want for the recon unit members if you are so inclined.  I received an order of the Dark Field Gray (Feldgrau Dunkel) 1937-1940 Early War from 1944 Militaria this week and it is easy to work with.  Two coats and a clear satin finish.  The sand is put on first with a glue wash.  We'll see how it endures.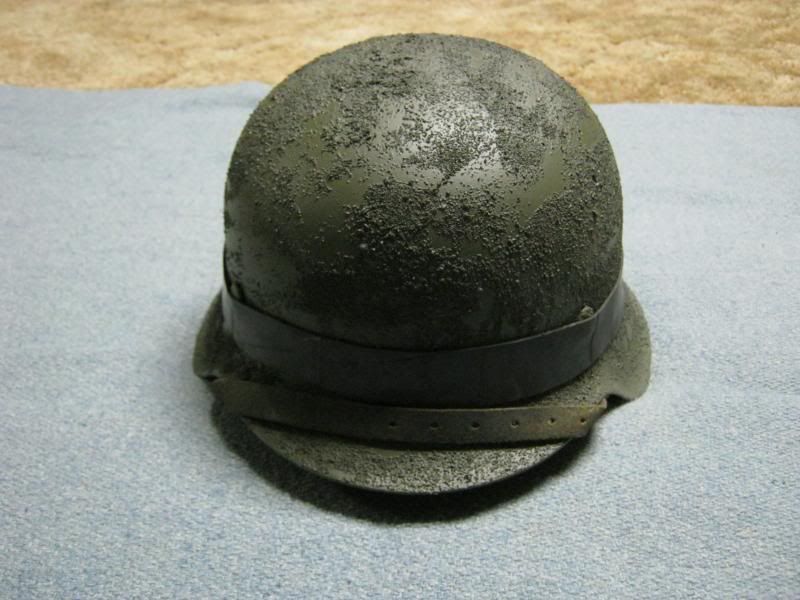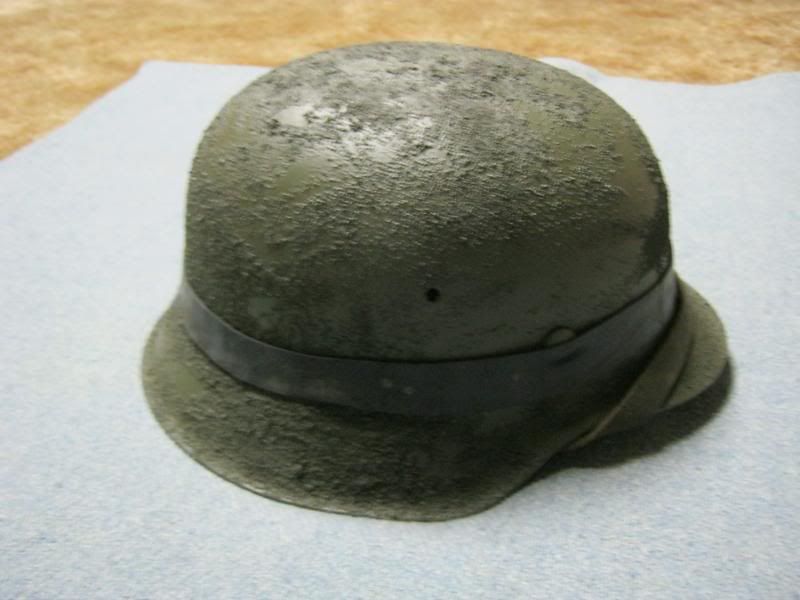 ---
Posted by andre on Mar. 23 2014,16:03

That texture is pretty sweet.

Did you take the straps off before applying the sand?
---
Posted by Ersatzjack on Mar. 23 2014,16:32

Ja, no straps in the way. The chin strap was tucked up in the helmet and the rubber left off. Thanks! I got the idea from Aldrich after seeing his.
---
Posted by Aldrich on Apr. 17 2014,13:45

Just noticed your helmet. It looks good! The sand grit on my helmet was mixed right in with the paint and then applied onto the helmet by brush. I am interested to see how both methods endure when compared side to side over time.
---
Posted by Aldrich on Aug. 12 2014,20:13

While at the Iola military show I purchased a WWII Italian helmet shell.  The helmet was painted green with a cavalry emblem painted on the front and an eagle decal on the side.  I stripped off the decal, and repainted the helmet.  I then hand drew an infantry stencil and spray painted it on the forehead.  The liner and rivets are from a postwar Bulgarian copy of the WWII Italian helmet.  Here are the results:


---
Posted by andre on Aug. 13 2014,19:10

Is there an Italian impression coming together somewhere down the line?
---
Posted by Aldrich on Aug. 13 2014,20:53

One is in the works! Can't let the Italian army in Russia (ARMIR) go unrepresented.
---
Posted by Aldrich on Jun. 17 2015,21:43

Just completed my new m42.  The helmet is a repro from Kelley's Militaria.  I repainted it with a field gray paint from 1944 Militaria and added a mid-war single decal.  Unfortunately the clear matte spray that I thought would protect the decal had a bad reaction with it.  While it did damage the decal, it actually gives it a nice battle worn look so I am still ok with the results.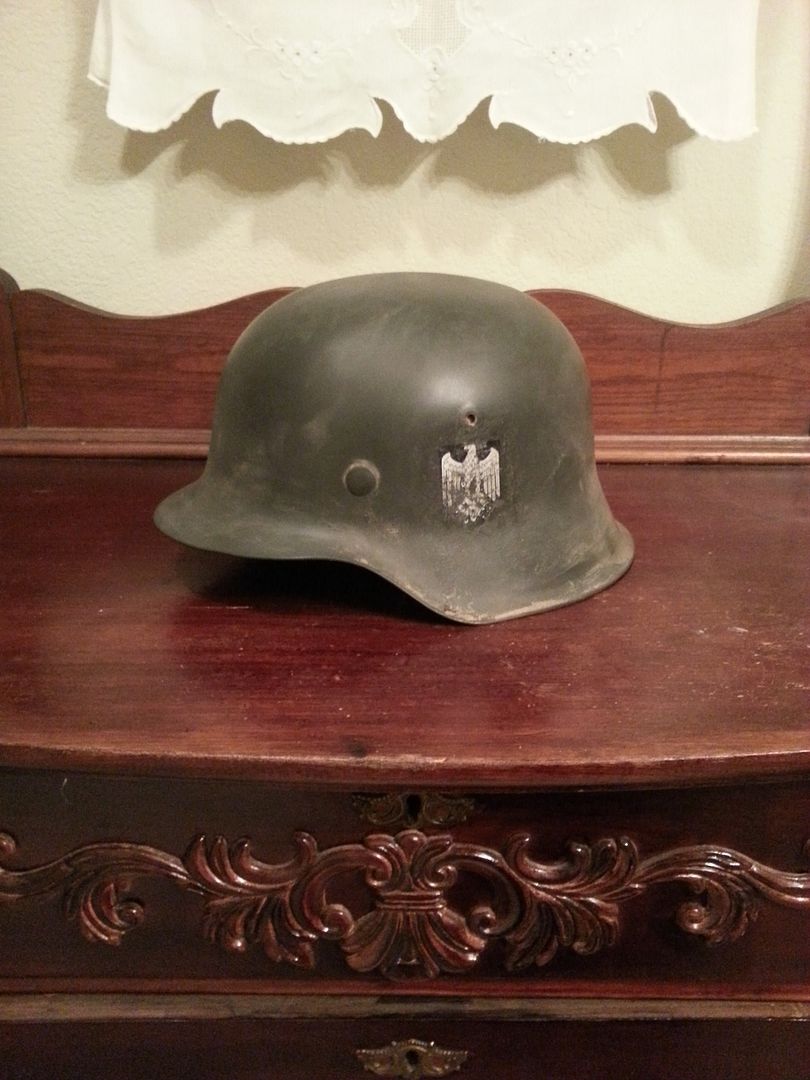 ---
Posted by ersatzjack2 on Jun. 18 2015,09:33

Looks good to me. I'm not the expert on uniform matters though so my input should be weighed with that in mind.
---
Posted by Ersatzjack on Jun. 19 2015,01:24

That looks super nice.
---
Posted by Aldrich on Oct. 23 2015,01:31

I recently negotiated a great deal on eBay for a fixed bale front seam M1 with the liner.  The surface and inside were coated in a very light surface rust, but with a little bit of elbow grease it cleaned up very nicely.  I painted it up as a 1st ID helmet based on a Normandy original.  All I am now waiting on is a reproduction chinstrap/liner chinstrap from At the Front.

Here she is: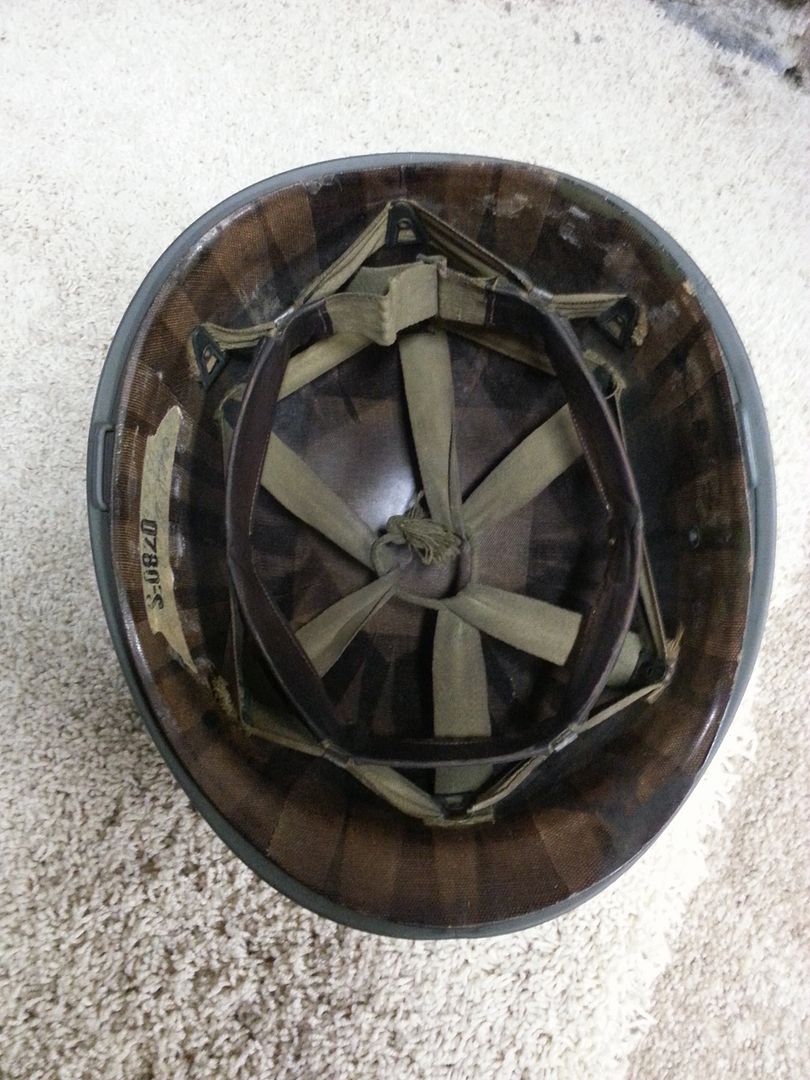 I also managed to obtain a Finnish m40 from IMA USA.  I plan on replacing the liner and repainting this with 1944 Militaria's field gray with a single Heer decal like my other helmet above.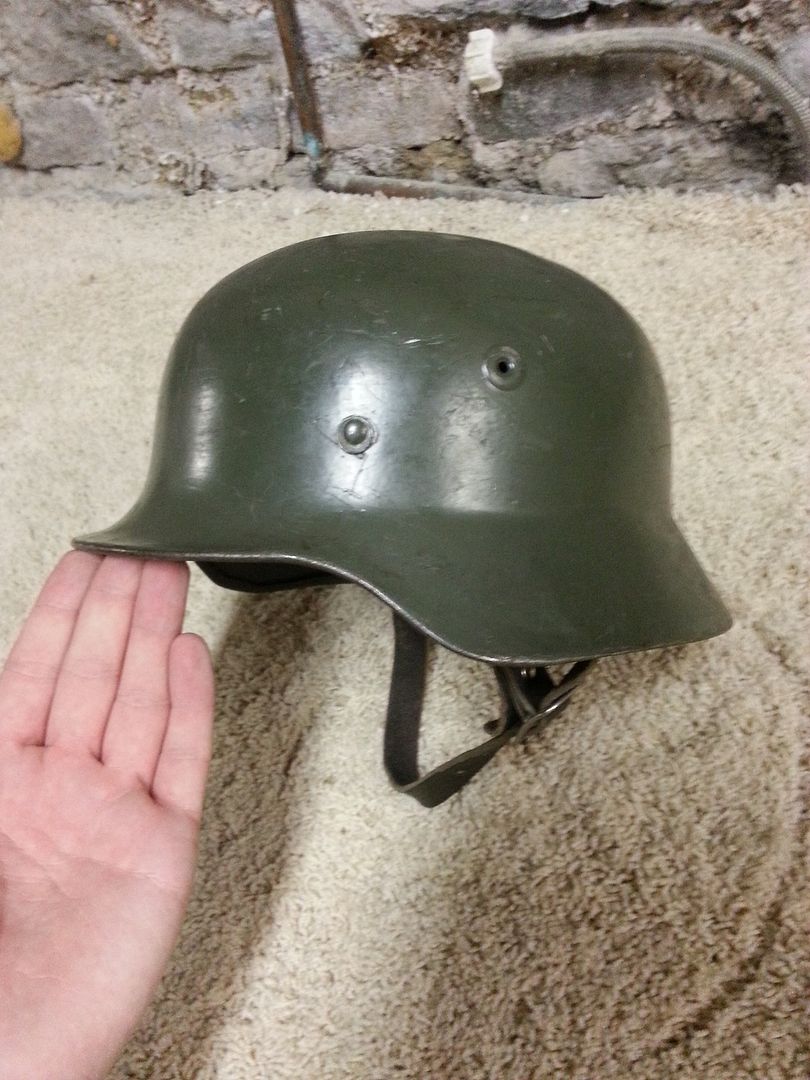 ---
Posted by Ersatzjack on Oct. 23 2015,12:46

Bargain hunter.
Looking forward to completed photos.
---
Posted by Aldrich on Apr. 16 2016,18:21

Picked up a WWII British Brodie helmet from IMA.  The shell is original, and has been refurbished with a replacement liner and a new chinstrap.  I made a helmet net with scrim from some netting a burlap that I had on hand in order to give it an early Normandy look.  I am hoping to eventually put together a Brit kit to use at Big Lake to match the allied kits that Travis has for rental.  It is quite comfortable in that it sits up off your head, but it doesn't protect you from anything except stuff falling from above.  Here it is: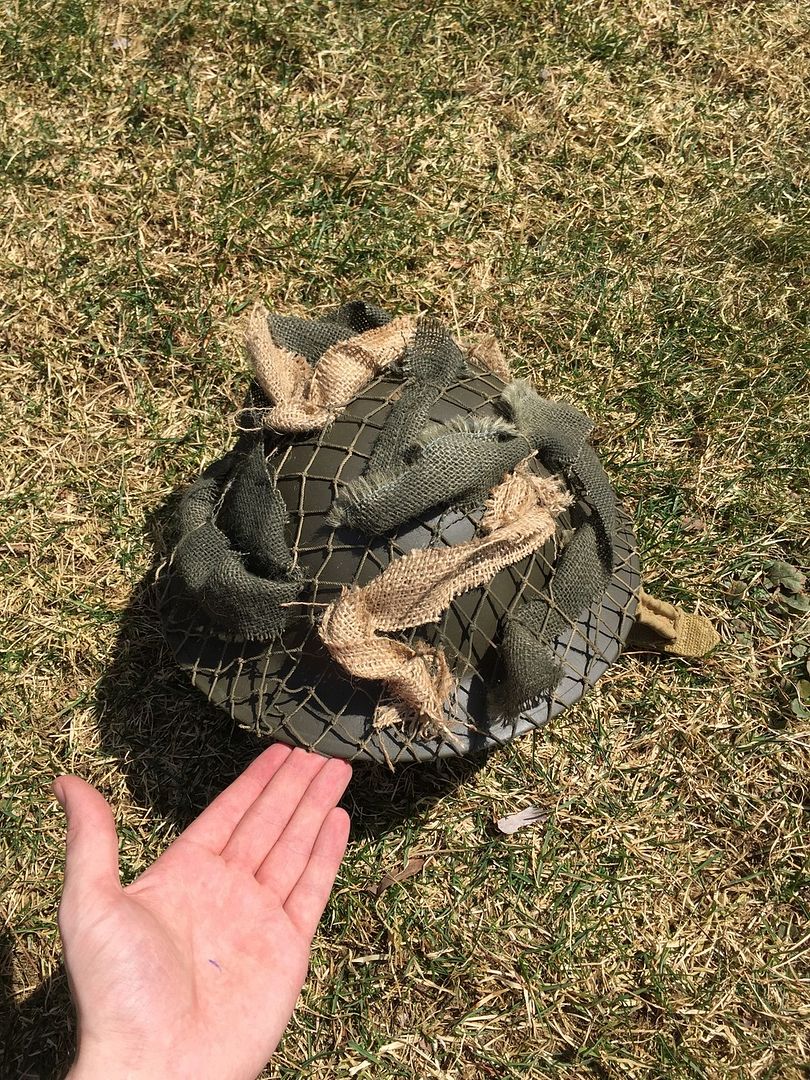 ---
Posted by ersatzjack2 on Apr. 17 2016,22:16

Looks nice. It's a lot lighter to wear though.
---
Posted by Ersatzjack on Apr. 29 2016,12:55

Finally... a helmet worthy of my head.

These are mine and Troy's helmets repainted and weathered by Jurgen of 7th Panzer for a Stalingrad period look.  I'm very happy with them. The M-35 is Troy's (was Steve's) and is a really decent looking repo while the other is an original.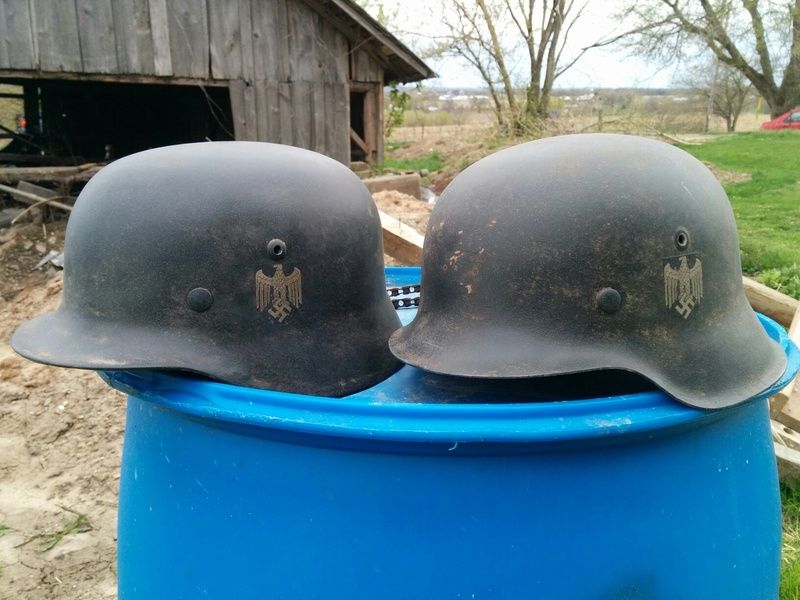 ---
Posted by ersatzjack2 on Apr. 29 2016,12:59

Is the M35 on the left? What's the difference? They both look super nice.
---
Posted by Ersatzjack on Apr. 29 2016,15:28

The 35 has finished edge where they roll the steel around but the 42 leaves it as is after the stamping. 42 is on the right when looking at picture.
---
Posted by ersatzjack2 on Apr. 29 2016,22:45

Thanks. See, I knew that. They look great.
---
Posted by wellnitz on Apr. 30 2016,15:54

Nice helmets Mike, I personally like the grey with the single decal. I weathered my eagle decal a while back, nicked it up a bit. Here is a post from three or so years ago I posted in German impression for beginners.
Helmet Reference.

M-40, which is a collectors terminology and not an original designation.

For those who want to portray early war to late war I would recommend the M40 model. I refurbished this one myself...
Grey with a textured finish. Single decal.

[/URL]

Mid to late war: M42.
I added sand to my custom blended grey paint and used a regular paint brush. Then I spray-painted on the tan-yellow paint. Note the scratched off decal impression on the left side...

[/URL]
---
Posted by Aldrich on Apr. 30 2016,21:16

Those turned out really good!   I like the camo on the m42 too.  I keep on experimenting on a spare repro shell trying to get a "normandy" scheme but it just never turns out the way I want it to.  I suppose I should post my helmet too:




The shell is a Finnish contract m40.  I modified the original liner so that it looks just like the German ones from the outside, but underneath it is still the original Finnish mount.  I will have to replace it one of these days. That and give it a good application of dirt.
---